The fear of the
Lord
leads to life; then one rests
content
, untouched by trouble.
Proverbs 19:23 NIV
Do you want to know how to be content in a tough season?
I am cultivating the virtue of contentment even though I'm in a tough season right now.
I have a new visual reminder to be content.

My daughter and I are big Kendra Scott fans. We love her jewelry designs and the deals she runs for email subscribers.
For my October birthday, I ordered a necklace at 50 percent off. I eagerly awaited the little cardboard box from Texas, which arrived a few days after my birthday order.
I picked a plum colored stone veined with gold and flecked with blue from her new line of Elisa necklaces. When I tried it on, I noticed just one fairly large blue fleck and no others on the stone.
I'm a perfectionist by nature, so the asymmetrical focus bothered me. I asked my daughter and my son's girlfriend what they thought. They said they would probably send it back.
Then I checked the return policy. Birthday discounts are considered final sales. So I had choices - grumble and complain about the imperfect stone, give it away to someone else, or learn to be content with what I have.
How to be content in a tough season - encouragement for you from Proverbs 19:23 NIV.
My necklace is teaching me an important lesson about being content. The necklace is still beautiful, and it's even more unique with this "flaw" in design. I've decided to not just keep it, but wear it as a symbol of choosing contentment in this tough season.
In tough seasons, it can be hard to choose contentment.

I had to spend months lamenting and grieving my situation to get to this point, and you may need to do that first as well. But there comes a time to lay aside the denial, anger, bargaining, and sadness, then step into the new world of acceptance though our situations may have not changed.
The truth is, I'm not content with the tough things.
They still stink to high heaven. Everyone who hears my whole story experiences shock, then compassion. God's not even asking me to be content with those tough things - he knows even better than I how much wickedness is going on behind the scenes.
However, I can be content in a tough season by focusing on what's good.
I often go to bed reciting God's characteristics back to him, because I know those never change. Reminding myself of God's unchanging character helps me cultivate a healthy fear and respect for who he is, and that includes being in full control of my situation.
Last night I reread my journals from earlier this year, when the situation was the toughest. I can now see the growth God produced in me to help me arrive at this stage of choosing contentment. Flawed though this situation may be, it still reflects God's glory because I'm choosing to honor him.
I know God is protecting me from the trouble that surrounds me.
His love is shielding me from attacks by human and spiritual enemies. Because of this, I can rest content, untouched by the trouble my enemies wish to inflict on me.
My new necklace reminds me of the challenging journey toward contentment.
The blue fleck is like a scar that marks the hurt, but makes the stone even more unique. My painful story is unique too, and I know God is bringing and will continue to bring glory from it in the future.
Here are a few tips to help you be content in a tough season:
Shake up your prayers. Don't just ask God for what you need. Lament your situation to him. Grieve before him. Then thank him for his unchanging character. Switch between these prayer modes daily, and God will open up the doorway to contentment in time.
Keep a journal. You may not see reasons to be thankful or content right now. But as you look back in the weeks and months to come, God will show you the work he's doing in your heart and mind, and you'll be amazed at the changes.
Look for value in what is imperfect. My necklace reminds me to do this. I'm also choosing to be grateful for the blessings in my imperfect house, budget, and relationships. When I intentionally search for reasons to be grateful, I find dozens every day.
I pray that if you are in a tough season, God will show you new ways to be content. If you want me to pray for you, reach out to me HERE.
Blessings and God's peace to you,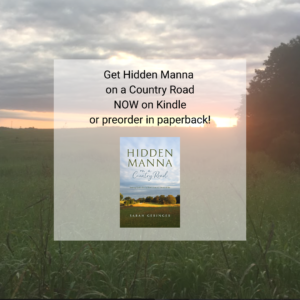 Check out my book,

Hidden Manna on a Country Road

, all about connecting with God through nature and prayer - available now on Kindle and in paperback Nov. 1.
Reflection questions:
1.
In which areas of your life do you lack contentment, and why?
2.
Which tip above will you try to cultivate contentment, even in a tough season?
Please share your thoughts in the comments below.