Today we continue our way through the Love Dare with week/dare 7. If you missed the first six weeks, please click here to go back and read.
"Love believes all things, love hopes all things." 1 Corinthians 13:7
Have you ever spent some time thinking about all of your husband's bad qualities? All the things he has done to make you mad. All the missed birthdays or holidays, all the negative comments about his in-laws. All the times he didn't bring home flowers. You know, all of those things that just make you so mad. What happens when we spend time meditating on those things? Well, let's face it, we get angry. We start to let those negative things creep into our heart and we get moody and dissatisfied with our husband. Not only is spending time thinking these thoughts a mood killer, it can also be a marriage killer.
On the opposite side on this we have all our husband's good qualities. Yes ladies, he does have some. Think hard. Maybe the way he checks the locks at night to keep his family safe, the way he brings you a towel for your ice cream bowl because he knows you don't like to have cold hands, or stands in a store holding your purse as you try on clothes. When we spend time thinking about our husband's good qualities we have more of a positive attitude toward him, more of a respectful attitude. And yes, we even fall more in love with him.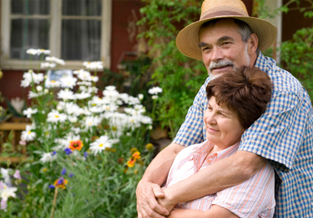 We must develop an habit of reining in our negative thoughts and focusing on
the positive attributes of our mate. This is a crucial step as we learn to lead our hearts to truly love our spouse.
Let's stay out of that negative zone and in the positive zone.
Today's Dare:
For today's dare, get two sheets of paper. On the first one, spend a few minutes writing out positive things about your spouse. Then do the same with negative things on the second sheet. Place both sheets in a secret place for another day/dare. There is a different purpose for each. At some point during the remainder of the day, pick a positive attribute from the first list and thank your husband for that characteristic.
Please comment below or head over to our Facebook page and let us know how you are doing with these dares.